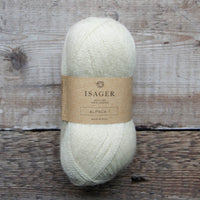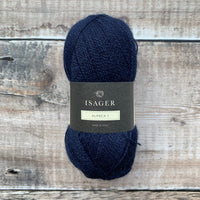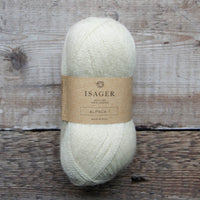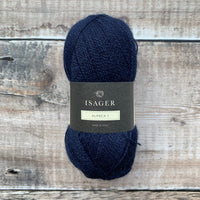 We love the versatility of this beautifully soft laceweight yarn made with 100% alpaca. Hold it with other yarns to add a luxurious touch or knit it singly for a delicate drape on scarves, shawls and vests. 
Larger needles produce a lightweight airy fabric that shows off the delicate single strands, while smaller needles create a gently cosy fabric with subtle texture.
Alpaca 1 is available in a lovely range of colours to suit your project. 'Eco' in the colourway denotes 100% undyed fibres. 
Technical Information
Fibre: 100% Alpaca
Weight: Laceweight
Skein weight: 50g
Length: 400m / 437yds
Needle size: 2mm / US 0
Care instructions: Handwash cool. Lay flat to dry
Origin: Made in Peru
Isagar alpaca 1
Fabulous yarn. Used double instead of Shetland 2 ply for a Sasha Kagan vest top. Love it!
Pleasure to knit
I use isager alpaca 1 with other fine wools like isager tweed or rowan mohair it gives the wool more strength i think and also alpaga wool is great wool, nice to knit with an amazing look.