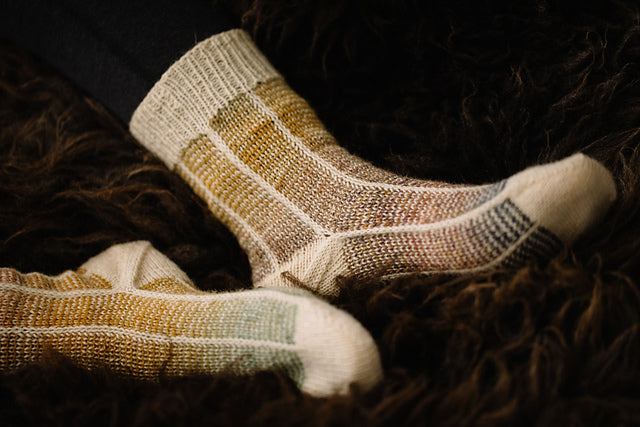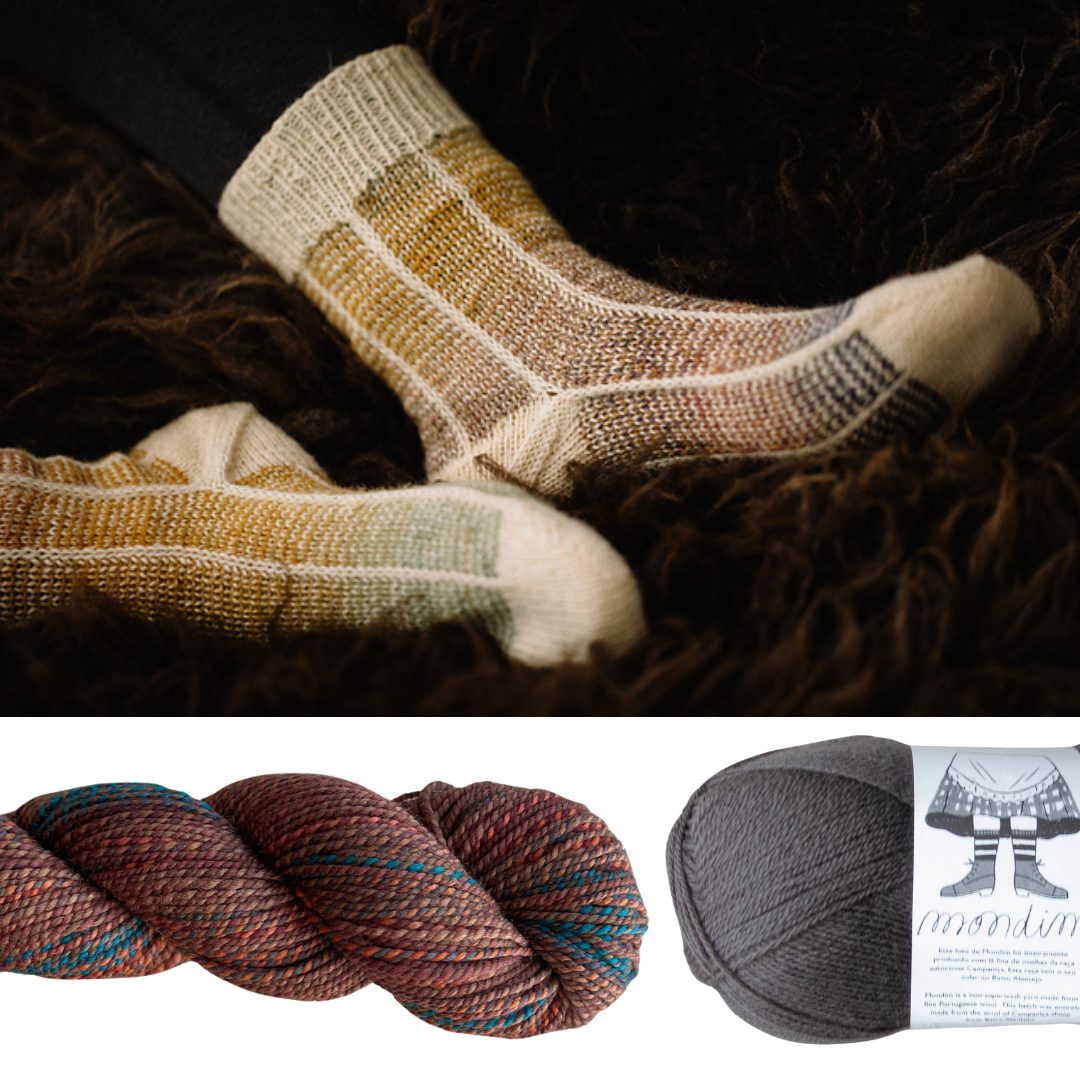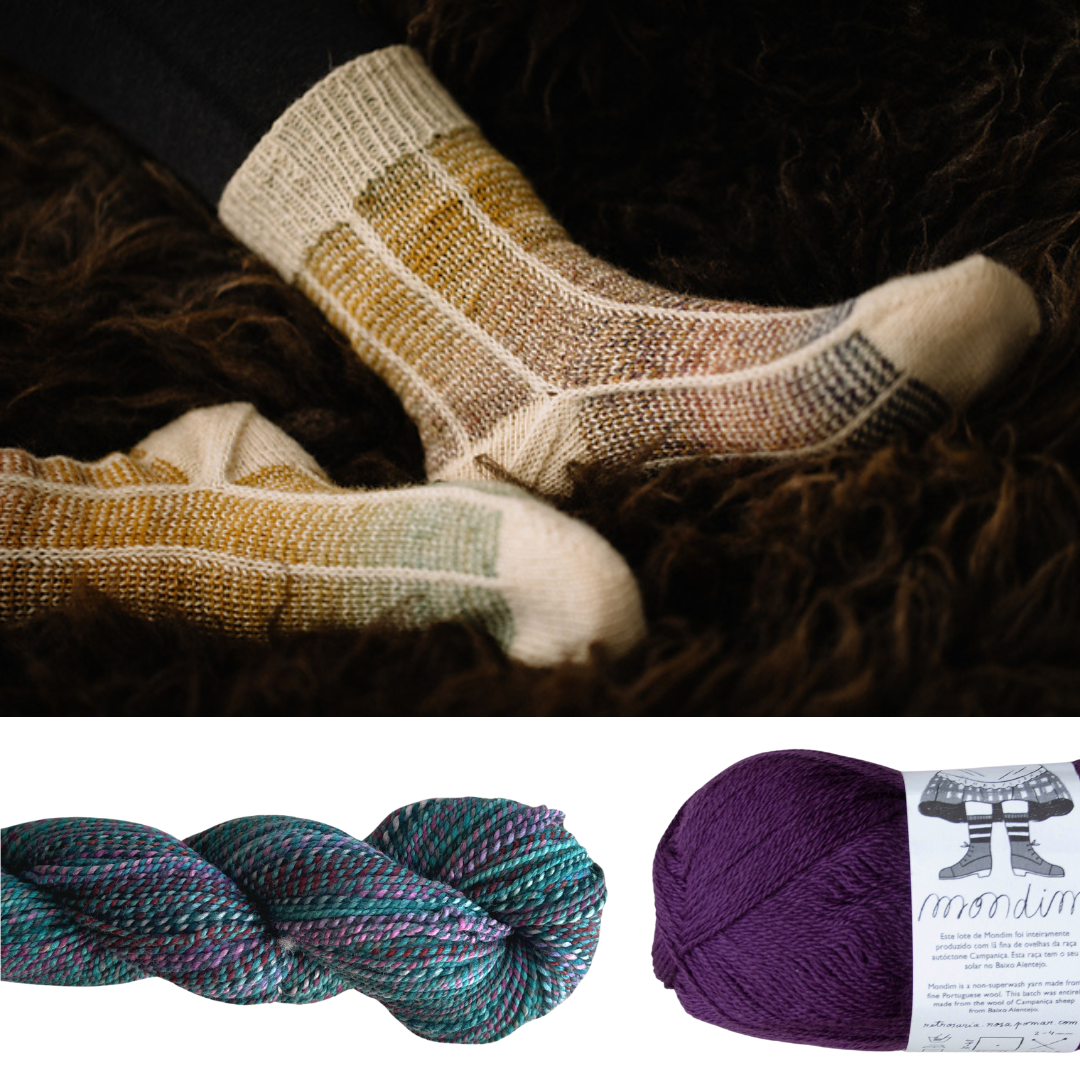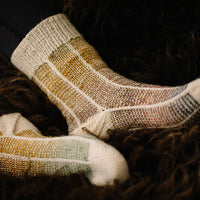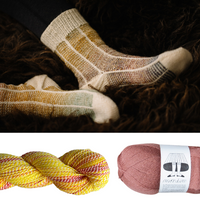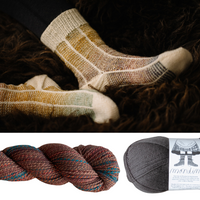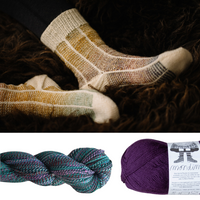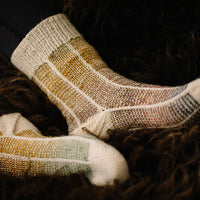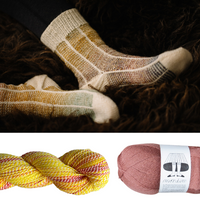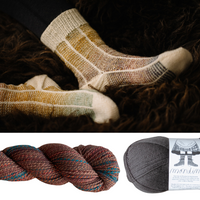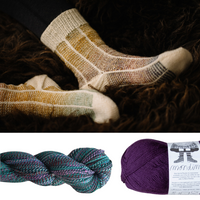 Inspired by hand spun yarns, Andrea Mowry brings us her "curio" socks. Curio meaning a "rare, unusual, or intriguing object" these socks showcase the beautiful shifting tones of Spincycle's Dyed in the Wool. These socks are knit from the toe up with an afterthought heel and includes sizing for the whole family - socks for babies, children, men, and women! The pattern recommends magic loop, but you can swap in double pointed needles or Chiaogoo shorties if that feels better for you!
SIZES
1 (2, 3, 4, 5)(6, 7, 8)(9, 10, 11)
To fit: Baby (Toddler, Children - S, M, L)(Women - S, M, L)Men - S, M, L
This pattern is gender neutral, with "Women" and "Men" only being used to signify the correlating shoe size.
FINISHED MEASUREMENTS
Foot circumference: 4.5 (5.5, 5.5, 6.5, 6.5)(6.5, 7.5, 8.5)7.5, 8.5, 9.5"
11.5 (14, 14, 16.5, 16.5)(16.5, 19, 21.5)19, 21.5, 24 cm
Recommended fit is 0-1"/0-2.5 cm of negative ease in circumference (when measured at the widest part of the foot).

YARN REQUIREMENTS
These are approx. for total yarn used per pair. Sock yarn can vary drastically from brand to brand and the amount will vary depending on foot length and if you decide to play with contrast heels, toes, stripes, etc.
Main Color (MC) - Fingering Weight (100 g/421 yd/385 m)
13 (21, 31, 34, 44)(45, 55, 66)58, 69, 81 g
51 (84, 121, 136, 175)(180, 219, 261)232, 275, 322 yds
Contrast Color (CC) - Sport Weight (50 g/200 yd/183 m)
7 (11, 15, 17, 22)(23, 28, 33)29, 35, 41 g
26 (42, 61, 68, 88)(90, 110, 131)116, 138, 161 yds

SUGGESTED YARN
MC - Retrosaria Rosa Pomar Mondim - 1 skein 
CC - Spincycle Yarns Dyed in the Wool - 1 skein

SUGGESTED NEEDLES
Main: US 1.5/2.5 mm - 32"/80 cm circular for Magic Loop
Ribbing: US 1/2.25 mm - 32"/80 cm circular for Magic Loop
We recommend:
Magic Loop: Chiaogoo 80cm / 2.25mm & 2.5mm  needles
In the round: Chiaogoo Shorties 23cm / 2.25mm & 2.5mm