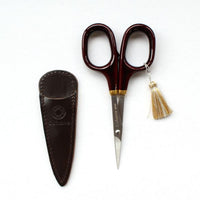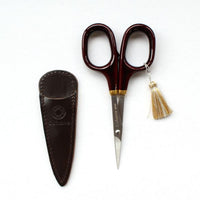 These beautiful small scissors are perfect for detailed cutting work such as quilting or embroidery.

The blades are created by Hasegawa Cutlery, a manufacturer of edged tools established in 1933 and located in Seki, Japan's foremost cutlery-making town. Blades are forged and hand-fitted by master craftsmen for a sharp edge and a smooth, hitch-free cutting experience.

Each pair of small scissors is handcrafted by a craftsman to adjust the engagement of the blades in order to achieve a sharp cutting edge. The final steps of the finishing process "Koba-biki" and "Tip Shaving" require the senses and experienced skills of the artisan.
Since the blade are delicately finished in with tapered tip, it is easy to use for detailed work of sewing and handicraft.
With handles decorated by our partners at Ehara Lacquer Works of Nagoya, each set of scissors displays the elegance of traditional Buddhist lacquerware typically reserved for temples.
Smooth-fitting and easy to use, the warm lacquer handles are as functional as they are beautiful. Red handles are finished with the Shunuri technique, which is used to produce a vibrant vermillion red, considered the color of celebration across Asia.

Each set of scissors comes in a leather case with a gilt tassel, protected by a cloth wrapping. The cloth can be used as a cleaning cloth for the lacquered handles. With proper maintenance they should last a lifetime.
▼Edge sharpening in two-steps called "Koba-biki"
The blades are sharpened by adding a small edge by grinding the blade at two different angles, which ensures long-lasting sharpness and strength.
▼Tip Shaving
Shaving the tip increases the accuracy of blade engagement.
Please note in advance that the blade tips are flat.
Lacquer factory founded in 1970 in Nagoya City, Aichi Prefecture. They mainly make lacquer items and Buddhist altars for temples and households. In recent years, they have been producing various lacquered works other than traditional Buddhist altars.
A cutlery manufacturer established in 1933 in Seki City, Gifu Prefecture, one of Japan's leading cutlery towns. The reliable quality was born from the outstanding technology and abundant knowledge cultivated through history. Their products have pleasant sharpness that cannot be found anywhere else.
Handling Instructions
Please handle with care as the cutting edge is sharp.
If the scissors get wet, wipe them off to prevent rust.
If you forcibly cut a hard object, the blade will not mesh properly and it may damage the blade.
Dropping or giving a shock may cause damage.
Please store in a case after use.
Since the case is made of genuine leather, it may expand and contract slightly. If it gets wet with water or sweat, it may cause discoloration stains.
If you are concerned about grease or fingerprints, gently wipe it off with the included cleaner cloth.
Avoid storing in hot, humid and direct sunlight as lacquer may discolor.
Do not polish with a coarse cloth or abrasive as it may cause scratches.