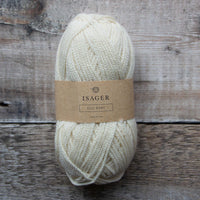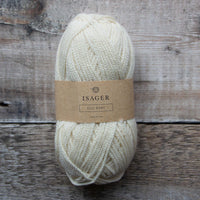 ISAGER ECO BABY consists of 68% Baby Alpaca and 32% Organic Pima Cotton. Meterage is 150 m in 50 g, and used individually it is knitted on needle size 4 mm – 5 mm. It's main feature is its softness which makes it the perfect choise for babies and young children. These yarns are 100% undyed and have not been chemically treated for dyeing and we recommend this yarn to people with sensitive skin or people who find themselves allergic to wool.
Technical Information
Fibre: 32% Organic Pima Cotton, 68% Baby Alpaca
Weight: DK
Skein weight: 50g
Length: 164yds / 150m
Needle size: 4mm-5mm / US 6-8
Care instructions: Handwash. Lay flat to dry
Origin: Spun in Peru
Yarn Mail
Love your shop! Supportive, great yarn, on-line shopping and knit nights. I found yarn for the sweater I want to knit. Fast shipping.