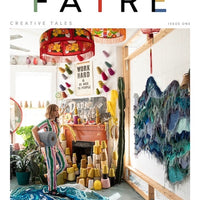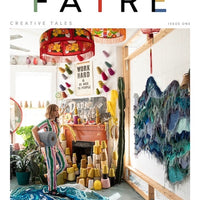 FAIRE is a new independent publication, 144 pages printed on FSC-certified paper.

Each issue will be filled with considered, intimate, meaningful stories that bring us inside artists homes and creative spaces. To share stories of slowing down, creating with intention, community and collaboration, examining the twists and turns of creative lives and how to finally find your voice.
INSIDE ISSUE ONE

In French, they call it a 'fil conducteur' – the invisible electrically-charged current that connects people and their personal journeys.
In Issue One of FAIRE we share 12 in-depth stories of creatives from across the globe. These are stories of new beginnings; healing through creativity and nature, and creating good and beauty out of the darkest of times.
Complementing these lead features, we also have a story about new talent and another about the best kept secret sources for vintage & antique textiles at the Paris Flea market.
FEATURED in FAIRE Issue One

 Trish Anderson is a Georgia-based fibre, textile and tufting artist who creates large scale joyful works of art from yarn.
 Christine Alcalay was raised in the garment district of NYC as a child and is now a fashion designer and runs a much-loved fashion house.
 Gillian Bell is a Brisbane-based artisanal baker who travels the world creating cakes for important life celebrations.

 

 Lucy Hunter aka The Flower Hunter is a photographer, and a floral and garden artist living in North Wales.
Lotta Klemming is a Swedish Oyster diver whose new book, Vildplockade Ostron, created in collaboration with photographer Olivia Thordén Rubie has been winning awards since its publication in late 2020.

 

Donna Lynch is the founder of Frome-based sustainable fashion and textile design atelier Studio Ashay.
Plus many more!
Any items ordered with the magazine will ship together once the magazine is released.