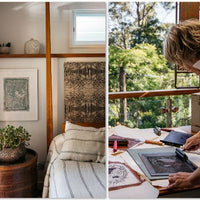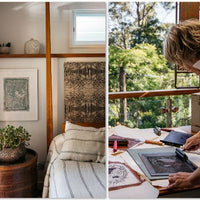 FAIRE is a new independent publication, 144 pages printed on FSC-certified paper.

Each issue is filled with considered, intimate, meaningful stories that bring us inside artists homes and creative spaces. To share stories of slowing down, creating with intention, community and collaboration, examining the twists and turns of creative lives and how to finally find your voice.
Issue 6 explores the mediums of fibers (natural dyeing, embroidery and weaving); fine art (watercolour botanicals, photography, painting, illustration, printmaking and sculpture, paper-art); craft (leatherwork, millinery, woodwork, botanical-craft), food, creative entrepreneurship and heritage savoir-faire.

Our artists live and work in some of the most beautiful corners of the earth. We explore a charming 1860's 'make do' cottage in rural Tasmania, Australia; a colourful, eclectic London East End flat; the historic Warwick Furnace Farm in rural northern Chester County, Pennsylvania; an artists Pacific ocean home surrounded by gum trees and native palms in Clareville, Australia; a celebrated botanical artists atelier in Vieille Lyon, France; a Victorian walled garden in County Durham in Northern England; a silk flower makers atelier in the heart of Brussels, Belgium and a luxury leather artists home in a Medieval village in Provence, France and so much more.
FAIRE magazine is a certified CarbonNeutral® print product, using FSC® certified paper and natural non toxic inks, our magazine is printed by PurePrint in the U.K.
INSIDE ISSUE 6
A month before the covid pandemic closed the world down, Eppie Thompson quit her finance job in London City with the idea to launch the Fabled Thread, an embroidery company for a new generation of crafters. Starting a business in the middle of lockdown would be daunting for even the bravest entrepreneurs, but serendipitously, Eppie found an audience hungry for distraction and eager to learn new craft skills. We met up with Eppie in her colourful, eclectic London East End flat where the Fabled Thread was born.
Multifaceted textile artist and cultural caretaker Kim Chin was born in the creative capital of London with roots in Filipina, Chinese and Jamaican heritage. This cultural fusion subconsciously influenced Kim's warmth for pattern, colour, perception and sharing stories. She returned to her home base of London in 2020 to nurture print-based skills and expanded into ethical products that aim to bring people together in a joyful, inquisitive way. 
For more than 35 years, French watercolour painter Vincent Jeannerot has transmitted sensitivity and emotion through his botanical illustrations. Vincent is a much-loved and celebrated teacher and hosts classes in his beautiful studio in 'Vieille Lyon', France and travels the world to host workshops, transmitting his knowledge and skills for the next generation of botanical artists.
Australian multidisciplinary artist, author, gardener and creative mentor Deborah Brearley believes that we can all nurture our creative spark through creative process, be it drawing, painting, gardening or the manual arts. Deborah invites us to discover her work and the charming historical 'make do' cottage she purchased a little over a year ago, which she is in the process of restoring, combining all her loves and interests: land restoration, historical preservation, social history and gardening.
After many years travelling the world, French designer Gabrielle Karnycheff recently returned to the 'source', her family home in the countryside of the Luberon region of Provence, France. Just before the pandemic hit, Gabrielle presented a luxury leather collection in Paris that she called 'Super 8', inspired by the shapes of camera bags from the 1970s and the colours of that period. Today Gabrielle creates a variety of bespoke, made-to-measure luxury leather objects using traditional hand-sewing and hand-cutting techniques. Her collection includes toque hats, slippers, handbags and cardholders as well as decorative items such as vases and furniture.
Cecille Weldon is an artist, printmaker, textile, furniture designer and systems thinker who lives in Clareville, Australia in a home surrounded by gum trees and native palms, the wild Pacific Ocean and the big Australian sky. Cecille describes the rhythm of making and creating as being like a heartbeat – a constant companion through life, fuelled by her curiosity, wonder and a hunger to connect and know more.