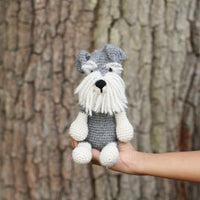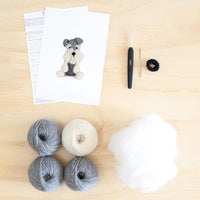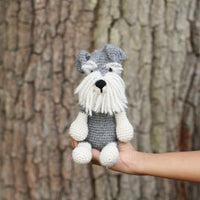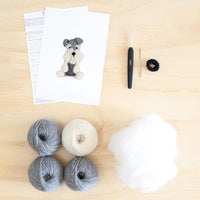 Make your own Romeo the Schnauzer with this fun crochet kit from best-selling author and designer Kerry Lord. Involving both the loop stitch and a colour change, Romeo is a fantastic kit for a dog lover who already knows the basics of crochet.
Whether you're a curious beginner or an enthusiastic crafter, this kit contains everything you need to crochet the animal of your choice.
This kit includes:
75g of super soft British wool in DK Shale and 25g in DK Cream
An ergonomic 3mm TOFT crochet hook
Hi-loft polyester toy stuffing
Wool needle for sewing up at the end
A length of black thread for the eyes and nose
Postcard pattern with instructions for making your animal
Getting started crochet advice and links to our 'how to' YouTube videos
Level three kit: This kit is suitable for those with a little crochet experience.
Finished size: Approx. 18cm high when in the sitting position.