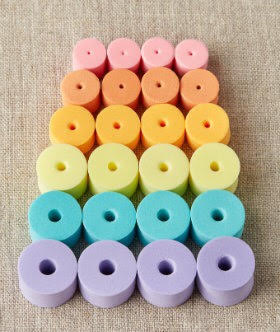 Cocoknits' colourful foam stoppers slide all the way onto your needles (not just on the tip) to secure your stitches.
They are also handy for slipping onto interchangeable needle cords to keep your stitches from sliding off while you try on your top-down garment or use your needles elsewhere.
This selection comes with four each of six sizes to accommodate needle sizes 2-10mm / US 0-15.
Best stitch stoppers ever
Once you've tried these, you'll never want to use ordinary stitch stoppers again! I love mine, just wish they were available in single size packs - I rarely use needles bigger than 4mm, so I keep needing more small stoppers but don't use the large ones
Cocoknits Accessories
I am very happy with the look of the stitch stoppers but I bought them as gifts for the members of our small knitting group. I'm sure they will let me know how useful they are.